A relatively new brand with deep roots in the coffee sustainability movement called Cocomiel (styled as "CocoMiel") has announced its United States nationwide launch, offering single-origin, traceable Guatemalan green coffee alongside unfiltered honey.
Cocomiel is one of the numerous progressive undertakings in the career of Bill Fishbein, an original founder of Rhode Island's Coffee Exchange, co-founder of the pioneering nonprofit Coffee Kids and later founder and current director of The Coffee Trust, a New Mexico and Guatemala-based nonprofit that helps improve agricultural practices and incomes among indigenous farmers.
Fishbein described Cocomiel as like a revenue-generating sister organization to The Coffee Trust, though with the critical distinction that the producers who supply raw materials are also earning revenue generated through its sales in the United States.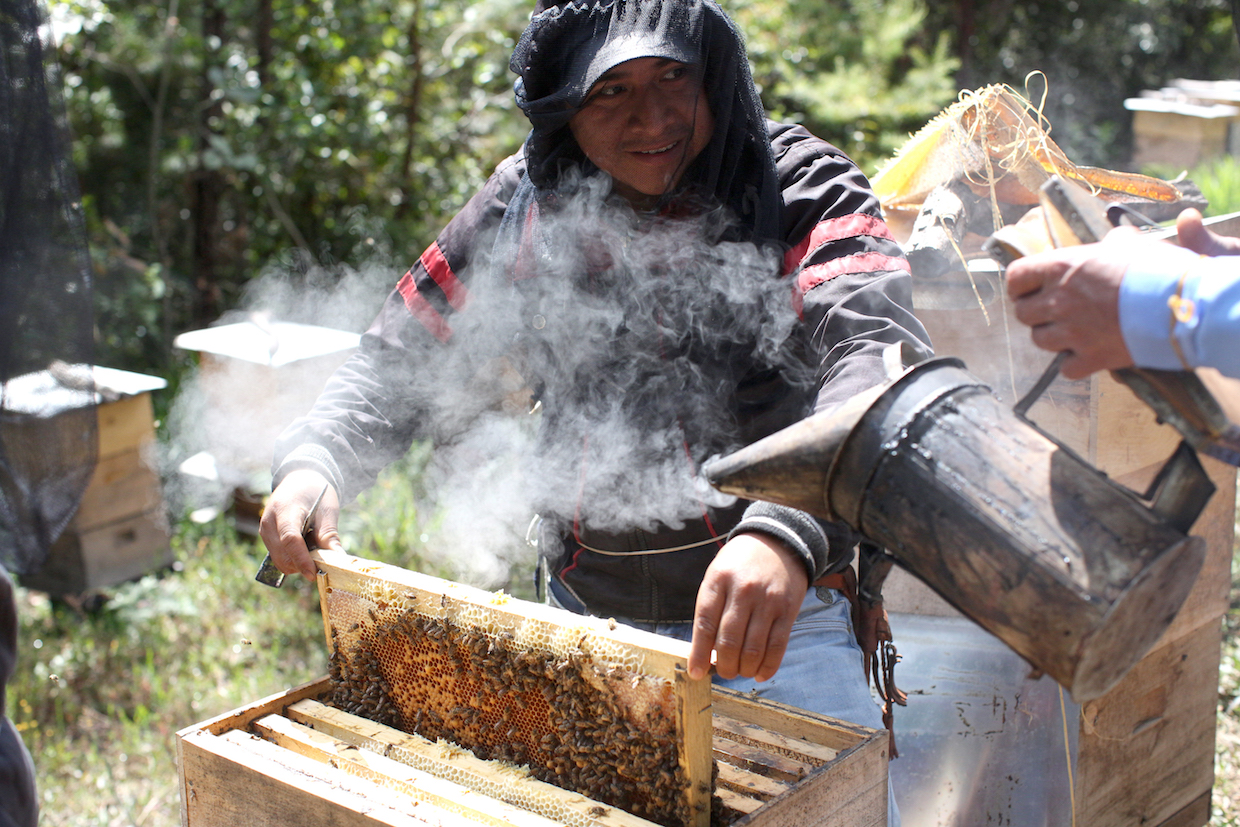 "In addition to providing revenue for Coffee Trust projects and added income for the producers, Cocomiel shares its gross profits equally and directly with the producers," Fishbein recently told DCN. "Right now, that means gross profits earned by Cocomiel selling green coffee to roasters."
The two products included in the Cocomiel nationwide launch both come from the indigenous Maya Community of San Gaspar, Chajul, in Guatemala's Western Highlands.
The green coffees are grown by smallholder farmers from the fair trade, organic coffee association Asociación Chajulense. The importer describes the coffees of having notes of lemon, peach, vanilla and honey, with a dark chocolate finish. Unfiltered honey for the venture comes from the fair trade, organic honey cooperative CopiChajulense.
Within 2021, Cocomiel plans to build a supply line among indigenous producers for the import of textiles and cacao, with the continued profit-sharing model.
For coffee and other products, the group hopes to expand the profit equity to the retail level, all the way down to coffee drinks and chocolate bars.
"That will be challenging," Fishbein said. "But, as Willy Sutton, one of the greatest bank robbers in the 20th century, said when asked why he robbed banks: 'That's where the money is.' Cocomiel's strategy is pointed toward the retail trade, because that's where the money is."
Cocomiel's honey and green coffee beans are available for purchase to wholesale customers through the Cocomiel website. Honey is available in 3-ounce jars and 12-ounce jars, with wholesale prices ranging from $2.75 to $7.00 per jar, depending on quantities. Green coffee beans range from $3.30 to $3.50 per pound for full 152-pound bags, and from $4.00 to $8.00 per pound for partial bags, according to the company.
"It's no secret that coffee producers have been excluded from earning a share of the profits that others earn selling their coffee in more economically advanced countries," Fishbein said in an announcement of the Cocomiel launch. "It's time for coffee producers to benefit from their skills, their hard work, and their continuous commitment to produce some of the world's finest coffee."
Related Reading
Nick Brown
Nick Brown is the editor of Daily Coffee News by Roast Magazine. Feedback and story ideas are welcome at publisher (at) dailycoffeenews.com, or see the "About Us" page for contact information.